Overview of Netgear NIGHTHAWK AX4 4G LTE LAX20 Wi-Fi router
The NETGEAR LAX20-100AUS AX4 4G router is for temporary rental installations, grey nomads, worksheds, and a fall-over for a home Wi-Fi system.
It is a worthy piece of kit – well-made and certainly the NETGEAR pedigree we expect. It has all the current 4G LTE bands 1, 3, 5, 7, 28 and 40 and 3G fallback 1, 3, 5, and 8. But make sure you buy it here as the international version only supports band 7! You can identify the Australian version by the RCM C-tick under the router, or the package must have LAX20-100AUS.
And its AX1800 (600/1200 2.4/5Ghz), so it has plenty of speed and coverage for a small home or large van.
Our only caveats – more buying advice – is that
You need strong 4G reception to make the most of this device
External LTE antenna ports
There are two LTE TS9 antenna ports but remember that external aerials are made for specific Telco bands and need a relatively short cable length (as the signal strength quickly deteriorates). To be clear:
2100MHz (B1) – Telstra, Optus, Vodafone
1800MHz (B3) – Telstra, Optus, Vodafone
850MHz (B5) – Vodafone
2600MHz (B7) – Telstra, Optus, Vodafone
900MHz (B8) – Telstra, Optus, Vodafone
700MHz (B28) – Telstra, Optus, Vodafone
2300MHz (B40) – Optus
Router performance
-dBm (0-100+ lower is better) and Mbps (higher is better)
If you have a Wi-Fi 6 device, it should connect at up to -24dBm 1200Mbps at 2m from the router. If you have a Wi-Fi 5 AC device, it has a maximum of 866Mbps. PASS
But the dual antennas don't quite have the signal strength, and at 5m it is -50dBm 716Mbps, and at 10m, it is -59 and 216Mbps. Still, for a single-level apartment with up to 10 connected devices, it is fine. We suggest connecting bandwidth-hogging devices like the TV via Ethernet.
The Netgear Nighthawk LAX20 is a router with LTE connectivity that can switch over seamlessly if your primary internet goes down. I love the idea that your router has a backup plan so you can stay connected.
The Netgear Nighthawk LAX20 at its core is an AX1800 dual-band WI-Fi 6 router with four streams. These speeds are nothing crazy, but like the TP-Link Archer AX21, it still has plenty of performance for most people. The rates break down to 1200Mbps at 5GHz and 600Mbps at 2.4GHz. The maximum width of the 5GHz band is 80MHz. There are also four-gigabit Ethernet ports for LAN connection plus a WAN Ethernet connection that can act as LAN when using only LTE.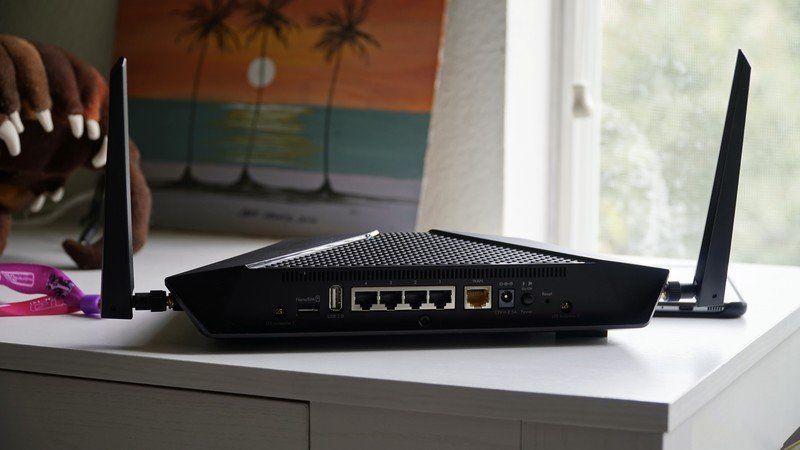 Unlock Netgear NIGHTHAWK AX4 4G LTE LAX20 Wi-Fi router to be used on any supported provider such as:
Vodafone, O2, Verizon, Oppo, Orange, Telenor, Optus, Tele2, Rogers, Fido, Chatr, Bell, MTS, Virgin, Vodacom, Telus, Telstra, AT&T, EE UK and many more
How to unlock Telstra Netgear AX4 4G LTE LAX20
Cellcorner offers several ways to unlock Netgear AX4 4G LTE LAX20 mobile router.